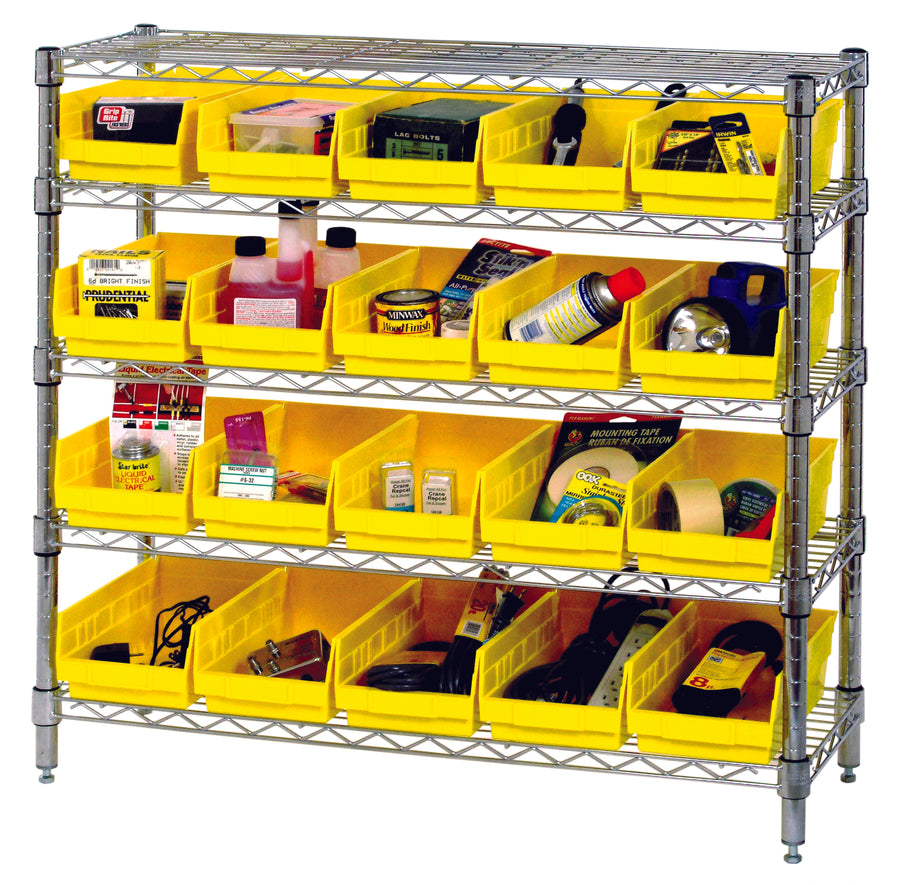 IN STOCK - ON SALE
PLASTIC PARTS BINS
LOW PRICE GUARANTEE
Styles of Plastic Parts Bins We Offer
Stack and Hang Bins: As the name suggests, these versatile bins can be stacked on top of each other or hung on a wall or panel system, offering flexibility in space utilization. They're great for storing a variety of parts and with an open hopper front, parts can be easily accessed whether the bins are stacked or hanging. Lids, windows, dividers and labels help organize and identify parts quickly and do not affect the bins ability to stack or hang. Stack and hang bins are the most popular style of bins for small-to-medium sized parts and are included in the product grid above.
Large Stacking Bins: Our large stacking parts bins start at 24" deep (front to back) and go all the way up to 42" deep. The widths and heights vary, but these large stacking bins are extremely heavy-duty and intended to hold big, bulky parts. Many of our large stacking bins also accommodate dividers, windows and labels, and are resistant to oil, chemicals and extreme temperatures.
Nesting Shelf Bins
:
 Nesting shelf bins are perfect when stackability is not required, and a more economical option. Since they don't stack, they don't have reinforced walls, requiring less material to manufacture and saving you costs. When not in use, these parts bins nest inside one another for minimal space consumption while not in use. With 7 divider slots going across them, shelf bins are designed to hold small and medium sized parts of all kinds. With depths of 12", 18" and 24", these bins were designed to sit perfectly on the most common sized shelving units.
Dividable Grid Containers:
These containers provide the ultimate flexibility in storage organization. Their interiors can be divided into grids using optional dividers, allowing for a highly customized storage system that keeps similar items together and separate from others. They're perfect for storing various small parts in a single, easy-to-locate place.
Louvered Racks, Rails, and Panel Systems with Bins: These systems make use of vertical space, freeing up floor and counter space. The louvered design allows bins to be securely hung, and the bins can easily be moved or reorganized as needed. This flexibility is ideal for environments where storage needs can change regularly.
Shelving Units with Storage Bins (Shelf Bin Organizers):
This is a comprehensive storage solution that combines sturdy steel or wire shelving with parts bins designed to fit the exact depth of the shelves, maximizing parts storage capabilities. The shelving is available in various depths (12" deep - 36" deep), widths (36" wide - 72" wide) and heights (39" high - 86" high). The parts bins can be arranged on the shelves to suit specific requirements. This combination creates an organized, accessible, and efficient storage system that is easy to maintain.
Each of these bin types offers unique benefits and features, providing a range of solutions to meet various storage needs. By understanding the characteristics of each, you can choose the most suitable option(s) for your specific requirements and environment. 
Click here to view all Shelf Bin Organizers.
Click here to view All Storage Bins for Shelves and Filter by Size.
Plastic Parts Bins Features
Plastic parts bins are commonly used for storage in various settings, ranging from industrial environments to retail spaces and healthcare facilities. Plastic storage bins offer several advantages for parts storage, below are some characteristics that make these plastic bins ideal for parts storage.
Heavy-Duty: Plastic parts bins for storage are made from polypropylene, a robust and durable plastic that can withstand considerable wear and tear. Polypropylene is known for its strength and stability, ensuring that parts bins hold up under the weight of heavy parts and/or materials. Reliability of parts storage is critical in demanding environments like hospitals, factories and retail backrooms.
Economical: One of the main advantages of plastic parts bins is their cost-effectiveness. They are not only affordable initially, they also offer cost savings over time. Their durability means they need to be replaced less frequently than other solutions, reducing your total cost of ownership and providing a higher return on investment.
Optional Dividers & Lids: For improved organization, plastic parts bins can often accommodate dividers and/or lids. These dividers allow for better sorting and segregation of items within the same bin, essential in settings like healthcare where quick identification of supplies can impact patient care, or in retail where efficient restocking can enhance customer service. Optional lids offer an additional layer of protection for the parts inside of the bins, safeguarding them from external factors like dust or moisture. This is particularly valuable in healthcare settings, where keeping supplies sanitary is paramount, or in industrial environments that may be exposed to the elements. 
Various Sizes: Parts Bins for Storage are available in various sizes, ensuring flexibility in storing items of different dimensions, making them suitable for diverse needs in industrial, retail, or healthcare settings. Larger bins can handle bulkier items, while smaller ones are ideal for components or parts.
Easy to Wash: Given that polypropylene is resistant to many chemicals, these bins can be washed and sanitized using a wide range of cleaning agents. This characteristic is particularly crucial in healthcare settings, where maintaining hygiene is of the utmost importance. It's also beneficial in retail and industrial environments to keep the bins clean and attractive for longer.
Resistant to Rust and Bacteria: Parts bins don't rust, which is a significant advantage in industrial environments or any location with high humidity. Additionally, their resistance to bacterial growth promotes a safer storage solution, especially vital in healthcare environments where infection control is a top priority.