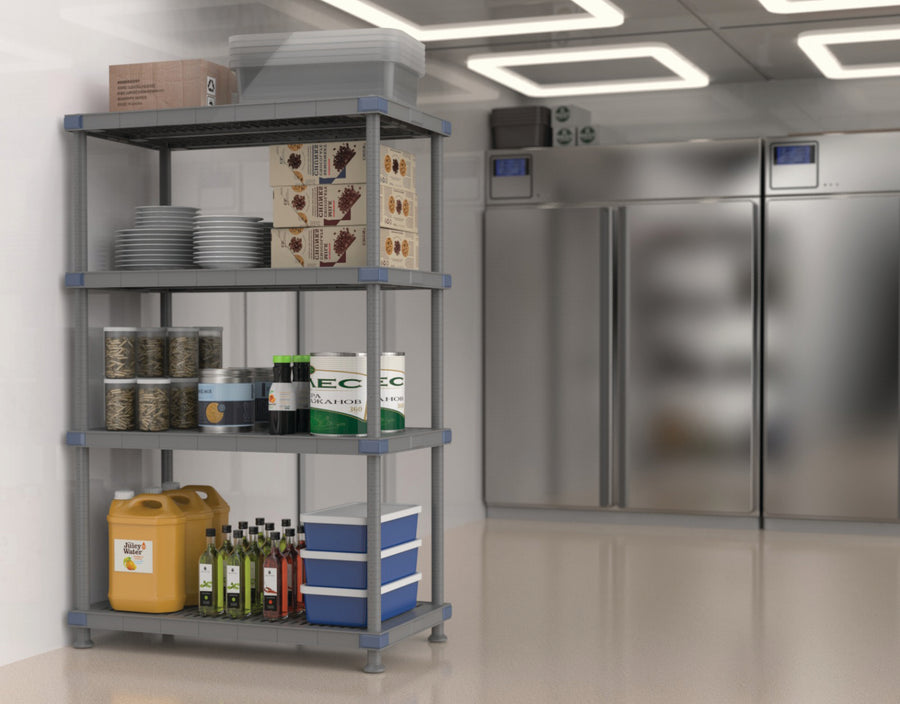 NSF CERTIFIED | HEAVY-DUTY
Walk-in Freezer & Cooler Shelving
15 YEAR WARRANTY AGAINST RUST, MOLD & MILDEW
Walk-In Cooler & Freezer Shelving
Walk-in Cooler & Freezer Shelving - 15 Year Warranty
Walk-In Cooler & Walk-In Freezer Shelving are available in the following finishes, each suitable for extreme temperatures and wet storage: Stainless Steel, Epoxy Coated (black, green or gray epoxy) or Polymer. Each shelving unit below is crafted to maximize space utilization in walk-in coolers, ensuring your supplies and ingredients are organized, accessible, and always fresh. Explore our variety of sizes, materials, and designs to find the perfect shelving solution for your walk-in cooler.
IN STOCK - FAST, FREE SHIPPING - LOW PRICE GUARANTEE
WALK-IN FREEZER & WALK-IN COOLER SHELVING SOLUTIONS
When it comes to shelving for walk-in coolers and freezers, choosing the right material is paramount for maintaining the quality, freshness and safety of stored items. Shelves must endure low temperatures and high moisture levels while upholding hygiene standards. There are several different types of shelving finishes that are suitable for walk-in freezers and walk-in coolers, those include: epoxy-coated, stainless steel, and polymer/plastic.
Epoxy-Coated Shelving: The most economical of the options, epoxy-coated wire shelves and poles are treated with a special coating to resist rust, corrosion, and bacteria build-up, making them ideal for high-moisture, cold environments like a walk-in freezer or walk-in cooler.
For example, when a high-end steakhouse had trouble with rusting shelves, we successfully replaced them with epoxy-coated units to maintain their premium products' safety and quality.
This steakhouse stored their premium cuts of meat in a walk-in freezer. Unfortunately, their previous metal shelves started to rust due to the moist, cold conditions, threatening the quality of their steaks. We assisted them by replacing the standard, retail quality shelving with epoxy-coated, industrial shelving units that are specially designed to resist cold and moist conditions. This long-lasting, economical solution ensured their inventory was stored safely and hygienically, preserving their high-quality standards and preventing potential financial loss from spoiled meat. You can also view this case-study on TJ's Craft Beers for more info on epoxy shelving in restaurants.
Click here to view our epoxy-coated shelving units.
Stainless Steel Shelving: Exceptionally durable, rust-resistant stainless steel shelves can withstand both low temperatures and high moisture levels. Their smooth, non-porous surface is easy to clean, ensuring high hygiene standards.
For instance, a renowned seafood restaurant experiencing corrosion due to saltwater residue found the solution in our stainless steel shelves, preserving their seafood's quality and freshness.
At this renowned restaurant, their aluminum shelves in the walk-in cooler began corroding due to the saltwater residue from the seafood. This not only threatened the quality of their premium seafood but also posed potential food safety issues. We recommended transitioning to stainless steel shelving. Despite being more of an investment upfront, these shelves proved highly resistant to the cold, moisture, and saltwater conditions of their cooler. They were easy to clean, ensuring a hygienic storage environment for their seafood, which in turn preserved the restaurant's reputation for high-quality dishes. The lifetime warranty gave them peace of mind knowing they made a sound investment.
Click here to view our stainless steel shelving units.
Polymer Shelving: Polymer shelves, made from durable plastic, resist rust, corrosion, and impacts. An antimicrobial coating adds an extra layer of protection for high-hygiene environments. Their vented design promotes even cooling, and they are light enough for easy rearrangement.
A large hospital kitchen benefited from our polymer shelves when they needed to maintain consistent temperatures in their walk-in coolers.
The hospital was using solid metal shelving in their walk-in coolers, which obstructed airflow and caused temperature inconsistencies. This had potential implications for food safety. We helped them replace their existing shelves with lightweight, vented polymer shelving. The enhanced air circulation led to more consistent cooling, while the antimicrobial coating offered additional protection. Although polymer shelves can be a bit more expensive initially, they are a smart, long-term investment given their durability, ease of maintenance, and the critical importance of food safety in a hospital environment.
Click here to view our polymer shelving units.
Choosing the right type of shelving involves considering your specific needs and conditions. Whether you're running a high-end steakhouse, a bustling bakery, a renowned seafood restaurant, or a large hospital kitchen, we have a proven track record of providing optimal shelving solutions for walk-in freezers and walk-in coolers. Our expert advice can help you streamline operations, improve food safety, and contribute to the success of your business.
Check out these blog posts for first-hand stories and experiences with walk-in freezer and cooler shelving systems: