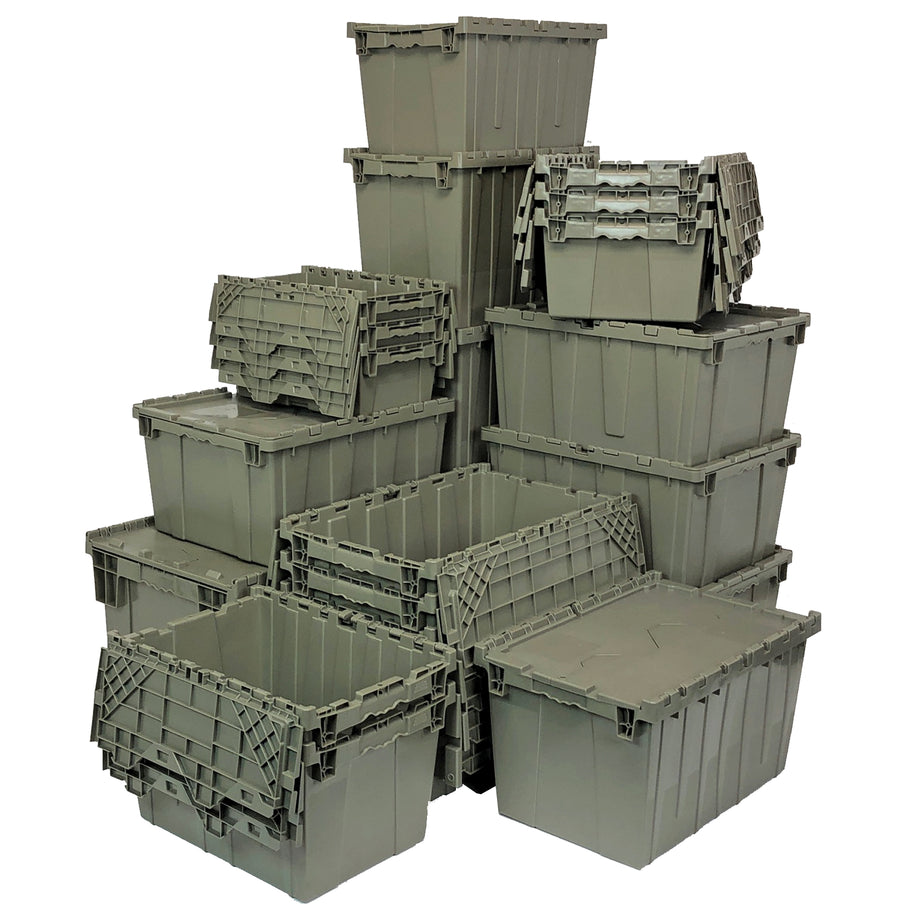 IN STOCK - ON SALE
ATTACHED LID CONTAINERS
LOW PRICE GUARANTEE
Attached Lid Containers
Heavy-duty, FDA Approved Attached Lid Distribution Containers
Browse our extensive selection of heavy-duty attached lid containers (also known as round trip totes), proudly made in the USA and designed to cater to all your industrial storage and transportation needs. Dependable attached lid containers are perfect for storage, order picking, work-in-process, transfer, and shipping applications in warehouses, distribution centers, and a variety of other industrial and commercial settings. All attached lid containers are molded from FDA-approved polyethylene, ensuring the highest quality and safety standards.
Low Price Guarantee - Free Shipping - Volume/Bulk Discounts
Attached Lid Distribution Containers
Heavy-duty, stackable, and nestable plastic distribution containers with attached lids are ideal for storage, distribution, and order picking in a variety of industries, including food and beverage, pharmaceutical, manufacturing, retail, and transportation.
Here are some of the key features and benefits of this type of container:
Durability: Plastic distribution containers are made from durable, 

high-density, FDA-approved polyethylene, ensuring they will hold up under the most strenuous conditions, including 

shipping and handling. Attached lid containers are designed with reinforced corners, increasing the strength and durability, meaning less damage and lower replacement costs. An enhanced nesting lug increases capacity when stacking nested containers. The interlocking covers are permanently attached with plastic hinges, making our attached lid containers safer than many other options on the market and easier to recycle at the end of their life.
Stackability and nestability:

Plastic distribution containers are designed to stack neatly and securely, saving valuable floor space in commercial settings. This is especially important for businesses that store a large volume of inventory but have a smaller physical footprint. In these smaller physical spaces, distribution containers are stacked high in a supply storage closet, reducing the amount of space required to hold inventory. When empty, attached lid storage containers nest inside each other, with the end result the same as stacking them, less physical space required to hold more product. 
Attached lids: The lid is permanently attached with plastic hinges, providing a secure seal and protecting the contents from dust, dirt, and other contaminants. The interlocking characteristics of the lids allow for secure stacking of containers.
Ergonomic handles: The handles are designed to make it easy to lift and move the containers, even when they are full.
Recessed lid: The recessed lid ensures maximum load stability, preventing the containers from tipping over when stacked.
Padlock eye: The padlock eye provides a security option, allowing the lids to be fastened and/or locked.
Hygiene: Attached lid distribution containers are easy to clean and sanitize, making them popular in the food and beverage, pharmaceutical, and other industries where hygiene is a top priority. These containers can be washed and sanitized in a commercial dishwasher.
Attached lid storage containers offer a number of advantages over other types of containers, such as cardboard boxes and wooden crates. Here are some examples of how our clients use attached lid distribution containers to streamline business operations:
In the food and beverage industry, distribution containers are frequently used to store and transport fresh produce, meat, poultry, seafood, dairy products, and processed foods.
In the pharmaceutical industry, these containers can be used to store and transport drugs, medical devices, and other sensitive materials. You frequently see attached lid containers in the aisles of pharmacies and supermarkets as store workers use these hinged-lid containers to restock inventory throughout the store. 
In the manufacturing industry, these containers can be used to store and transport raw materials, work-in-progress, and finished goods.
In the retail industry, these containers can be used to store and transport merchandise from warehouses to retail stores.
In the transportation industry, these containers can be used to store and transport goods in trucks, trains, and airplanes.
If you are looking for a durable and reliable solution for storing and transporting goods, this type of plastic distribution container is a great option to consider.
Learn more about attached lid distribution containers by reading these blog posts:
Attached Lid Containers & the Moving Industry